Don't hesitate to contact us if you are interested or have any questions. You can call us, send an email or use the contact form under contact.
When booking a tour, send us your name, telephone number, email address and eventual food restrictions. For longer riding tours please send height, weight and riding experience. For all multiple day trips, we also need to know arrival and departure time.
We have travel guarantee at "Kammarkollegiet".
For many of our tours transfer round-trip Kiruna is included. If you need to get here on your own you can read more about that here. 
Reindeer and moose meat is an important ingredient in the Sami cuisine, usually smoked to last longer when you are out in the mountains for many weeks. Other local specialties in this area are fish from the river or mountain lakes. Berries and herbs are also important ingredients, like cloudberries, blueberries, lingonberries, Angelica, meadowsweet etc. 
We provide any special diet if you require that, like no lactose, gluten or vegetarian (remember to tell us in advance).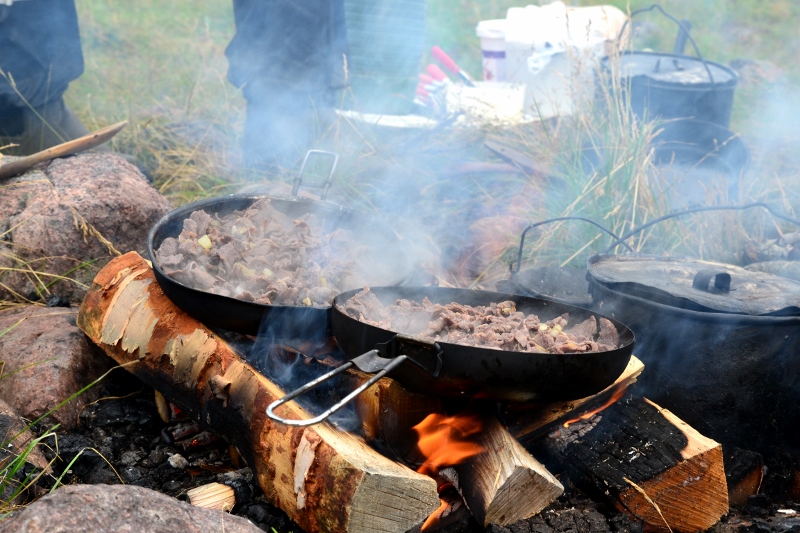 The weather conditions can change a lot in this part of the world. To avoid being cold and be able to enjoy the tour it is important to be prepared, but also hard to know what clothes you need. (See equipment lists below)
For the multiple day tours with us, you can borrow rain gear and boots in the summertime. In wintertime, we provide you with warm outerwear and winter boots. For riding and snowmobiling, we have helmets to borrow.
Summer
During the summer the temperature is around 10-15 °C, but it is often colder in the mountains and during the night the temperature can drop to zero. If we have a really warm summer it can be up to 30 °C. Therefore you need to bring clothing for all kind of weather. On the cold days, you need multiple warm layers (including base layer like long johns), gloves and hat. Good rain gear and wellies are necessary (available for lending).
List of equipment overnight tours summer
List of equipment summer packages
Winter
In wintertime, the climate is normally colder and dryer. On a really cold midwinter day the temperature can drop down to -40 °C while it can during spring winter be plus degrees and sun. For a whole day outside in wintertime, you need a base layer (like long johns), 2-3 warm middle layers, woolen socks, scarf/buff, hat, mittens and an outer layer that protect you against wind and water. Keep in mind that natural materials like wool and down always are warmer.