2018-07-04 New program out (only Swedish), Yoga retreat och ridning i fjällen
2017-12-21 Our day tours (winter) are now available to book online at Rezdy
2017-09-23 We celebrate 20 years together with a competition and dinner.
2017-09-22 Our new website is finally ready!
The moose usually come to visit us during the winter season, to eat from the horses hay. Sometimes we have around 30 moose in the horses fields. Here you can watch them live!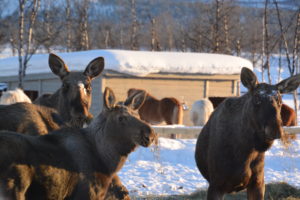 We have had a lot of moose on the farm this winter. It has been a tough winter, lots of snow and many cold days.. Therefore it's hard for the animals to find food in the forest,but the moose here in Puoltsa are lucky to be able to come here and eat. We have put